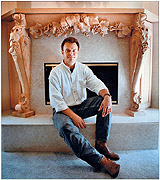 Roger Butterfield's gloved hands linger on flowing forms, cradling a mound of grapes here, fingering the veins of a curved leaf there, dropping low to trace a trailing tendril. It's hard to remember the man is working in wood, so sinuous are the shapes he creates. But wood it is, white oak in fact, that provides the foundation for this vine-carved mantelpiece, just one of the Medford woodworker's commissioned pieces.

When it's finished, the intricate, custom carved three-part fireplace mantel will have absorbed 300 hours of Butterfield's time and talent. Eventually, it will adorn the fireplace in a Jacksonville home. Then, Butterfield will turn his attention to the next project, part of his ongoing exploration of the relationship between a block of wood and a work of art.

"It's kind of just inventive expression", says Butterfield, 46. "It's the organic and the geometric. There's just something about the blending of the two".

Butterfield has been blending those dimensions in fine woodworking for more than 15 years, creating architectural and ornamental pieces ranging from a few hundred to several thousand dollars. But Butterfield the artist is also Butterfield the man, a guy who tries to balance creative intensity with more mundane pursuits. When he's not sculpting a carved door or a turned pillar or a wooden lions head, he teaches ballroom dancing classes at the Evergreen Ballroom in Central Point, or hires himself out as a household handyman. "Otherwise I'm so isolated when I work," Butterfield explains.

He's working now on three custom carved woodworking projects: the Jacksonville mantel, a carved door panel and a 5-foot caduceus, the winged staff entwined with snakes that has become the symbol for the medical profession. "The caduceus is one of my favorite subjects," Butterfield says. " It goes much deeper than strictly a medical logo. Serpents are an ancient symbol for renewal of life. It's safety and renewal."

Butterfield has worked with mythic themes and symbolic subjects since he turned to woodworking as a profession. Always creative, he learned to whittle as a child. "I can remember my grandpa taught me how to sharpen a pocketknife when I was 7," recalls Butterfield, who grew up in Southern Oregon and graduated from Medford High School in 1971.

He was a young man in Maryland, making a living installing air conditioning and heating systems, when a friend offered him part of a centerpiece beam from an old barn. "I just knew I wanted a big piece of wood," Butterfield says. "I bought an old Stanley carving chisel, a gouge and a mallet." Those tools - the woodworkers' holy trinity - launched Butterfield into a new life.

From the moment he carved his first piece, a personal storyboard called "Path of the Walking Stick," Butterfield revealed a prodigious gift. He is able, easily, to capture the forms and spirit of animals, faces, plants and objects in an art form that belies the adjective "wooden". "He is a wood sculptor," says Pamela Hassell, who commissioned the Jacksonville mantel. "He is not a woodcarver, this is art."

While other artists struggle for years to perfect their style, Butterfield moved smoothly from personal pieces to commercial success. His first commissioned piece was a wooden symbol for a Unity Church. "It was a 4-foot mahogany globe with wings and they used it underneath the portico," Butterfield recalls. Flush with that coup, Butterfield ditched heating systems and returned to Southern Oregon where his mother lived. He built a portable wood shop, hitched it to his mother's unused motor home, and began marketing his skills to every Unity Church from San Francisco to Portland. "I had a real niche market," he says. "I was doing wings for Unity churches.

One of those churches was the Unity World Healing Center in Lake Oswego, where minister Victoria Etchemendy wanted a distinctive sculpture for the entry. She envisioned a wooden depiction of the churches logo, which includes a heart etched with a map of the globe, surrounded by four bars symbolizing balance.

After a brief description, Butterfield seemed to understand the concept. "I have to admit, I had never met him and I spent less than an hour with him," she says. "He went off and carved it, he came back and unveiled it. It brought tears to my eyes.

Pamella Hassell was looking for just the right piece to accent her home after years of renovation. "I wanted a real unique expression of our family and our taste," she says. "I couldn't find anything just right... Then a friend of mine, she's really dramatic' said 'You just have to use Roger!'"

Butterfield says he works hard to capture the essence of his clients' desires. He starts with discussions and sketches, then moves to models before beginning the actual carving. The process requires, he says, an element of faith. "Everything I've ever done, I've never done before," he says.

The carving is careful, painstaking work done one stroke at a time. As he works, Butterfield's biceps flex and his body tenses with the controlled energy it takes to shape even one small round grape. "Most of it is finding your angle and making the cut," Butterfield says. "Carving in grain is kind of like sailing. When I go against the grain, it's like beating against the wind." Such effort leaves Butterfield depleted after about four hours. He no longer tries to force himself to work longer than that; instead, he diverts his energy to tasks with different demands. Teaching ballroom dancing, for instance, provides an antidote to hours of isolation on a studio stool.

"I've structured my time because I don't want to work," he says. "I want to be in a place where I want to live." So far, Butterfield has been able to fulfill the wish to work as much or as little as he pleases. A couple of times a year he takes samples of his carvings to woodworking shows, including the annual home show in Medford.
Contact Roger for a Free Brochure
View Fireplace Mantels * View our Gallery * About the Artist/designer
Commission an original * Contact Us * Return Home